Update 27 Named Loot Information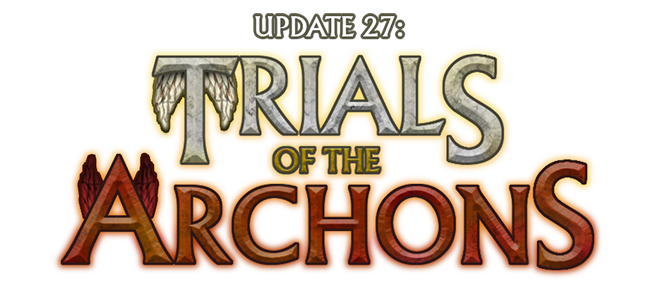 In addition to new items available with the Mysterious Remnants Vendor, there are numerous varieties of named loot available for the daring adventurer willing to best the Trials of the Archons! Available in both Heroic and Epic difficulties, the loot can be found throughout the dungeons or the raid. Here's what you can get!
NOTE: Click on any image to open it in a new tab in its full size.
Arm of the Archons
---
Heroic: Force Shot IV, Imbue Force IV, Impulse +72, Sheltering +3, Green Augment Slot
Epic: Force Shot V, Imbue Force VI, Impulse 150, Sheltering +30, Immunity to Fear, +2 Quality Bonus to Magical Resistance Rating, Green Augment Slot
Armbands of the Silenced Ones
---
Heroic: Dexterity +6, Dodge +5%, Seeker IV, Reflex Save +8, Blue Augment Slot
Epic: Dexterity +11, Dodge +11%, Insightful Dexterity +3, Determined Reflex Save +2, Green Augment Slot
Bleeding Edge
---
Heroic: +5, Limb Chopper, Bloodletter III, Red Augment Slot, Yellow Augment Slot, Flametouched Iron
Epic: +12, Limb Chopper, Vampirism, Bloodletter VII, Red Augment Slot, Orange Augment Slot, Flametouched Iron
Boots of Blessed Travels
---
Dodge +12%, Quality Armor Mastery +2, Insightful Reflex Save +3, Speed XV, Freedom of Movement, Yellow Augment Slot, Green Augment Slot
Countenance
---
Charisma +12, Evocation Focus V, Radiance Lore X, Spell Penetration VI, Yellow Augment Slot, Green Augment Slot
Dawnbringer
---
Heroic:+5, Returning, Vorpal, Deadly III, Bloodletter III, Orange Augment Slot, Flametouched Iron
Dissolution
---
Corrosion +156, Acid Lore X, Acid Absorption 30%, Conjuration Focus V, Blue Augment Slot, Green Augment Slot
Divine Artillery
---
Heroic: +5, Deception III, Eldritch III, Vorpal, Stealth Strike, Red Augment Slot, Flametouched Iron
Epic: +12, Deception IX, Eldritch VI, Sovereign Vorpal, Stealth Strike, Orange Augment Slot, Flametouched Iron
Eloquence
---
Heroic: Bluff +11, Intimidate +11, Good Luck +1, Seeker IV, Green Augment Slot
Epic: Linguistics 10%, Bluff +20, Intimidate +20, Good Luck +3, Seeker +12, Green Augment Slot
Fellblade
---
+13, Improved Banishing, Sovereign Vorpal, Axiomatic X, Armor Piercing 20%, Doublestrike 15%, Red Augment Slot, Orange Augment Slot, Cold Iron, Critical range of 18-20/x2
Gauntlets of the Arcane Soldier
---
Quality Spell Focus +1, Arcane Augmentation IX, Spellcraft +20, Wizardry XI, Green Augment Slot, Yellow Augment Slot
Halcyona
---
Heroic: Wisdom +6, Devotion +66, Magical Efficiency 5%, Healing Lore IV, Heal +11, Yellow Augment Slot
Epic: Quality Wisdom +2, Devotion +150, Magical Efficiency 10%, Healing Lore X, +2 Insight Bonus to Heal Skill, Green Augment Slot
Hide of the Fallen
---
Heroic: Druidic Survival Mastery, +2 Shield bonus, Armor Piercing -10%, Strength +6, Blue Augment Slot
Light Unending
---
Heroic: +5, Solar III, Vertigo +8, Banishing, Metalline, Red Augment Slot, Flametouched Iron
Epic: +12, Holy VI, Solar VI, Vertigo +15, Improved Banishing, Metalline, Purple Augment Slot, Flametouched Iron
Many-Hooked Greaves
---
Insightful Combat Mastery +5, Strength +12, Vertigo +12, Quality Vertigo +2, Green Augment Slot, Yellow Augment Slot
Memoriam
---
Good Luck +4, Healing Amp +75 Competence Bonus, Insightful Fortitude Save +3, Quality Reflex Save +2, Green Augment Slot, Yellow Augment Slot
Pendant of Quiet Movements
---
Heroic: Dusk, Dodge +5%, Seeker IV, Will Save +8, Yellow Augment Slot
Epic: Lesser Displacement, Dodge 11%, Insightful Will Save +2, Seeker XII, Yellow Augment Slot
Resonation
---
+4 Quality Bonus to Magical Resistance Rating, Quality Will Save +2, Inherent Elemental Resistance 15, Sounding, Green Augment Slot, Blue Augment Slot
Rod of Mythant
---
Heroic: +5, Spellcasting Implement, Evocation Focus I, Kinetic Lore IV, Impulse 66, Wizardry III, Orange Augment Slot, Flametouched Iron
Epic: +12, Spellcasting Implement, Evocation Focus V, Kinetic Lore X, Impulse 150, Wizardry XI, Orange Augment Slot, Flametouched Iron
Riftmaker
---
Heroic: +5, Force Burst, Banishing, Bloodletter III, Orange Augment Slot, Flametouched Iron
Epic: +12, +6 Enhancement Bonus to Melee Power, Superior Force Burst, Improved Banishing, Bloodletter VII, Orange Augment Slot, Flametouched Iron, Critical Multiplier of x4
Scraps of Enlightenment
---
Heroic: +5, Holy III, Solar III, Impact III,  Reinforced Fists, Red Augment Slot
Epic: +12, Holy VI, Solar VI, Impact V, Greater Reinforced Fists, Purple Augment Slot
Shield of Tireless Aid
---
Heroic: +5, Spellcasting Implement, Devotion +66, Exceptional Bonus Healing Amplification +20, Healers Bounty, Yellow Augment Slot
Epic: +12, Spellcasting Implement, Devotion +150, Equipment Bonus Healing Amplification +20, Healers Bounty, Improved Demonic Shield, Green Augment Slot
Sightless
---
True Seeing, Deathblock VII, +6 Enhancement Bonus to Ranged Power, +6 Enhancement Bonus to Melee Power, Sheltering +35, Constitution +12, Green Augment Slot, Blue Augment Slot
Strange Tidings
---
Dexterity +12, Deception VIII, Use Magic Device +7, Diversion 20%, Blue Augment Slot, Green Augment Slot 
The Band Immaterial
---
Heroic: Illusion Focus I, Enchantment Focus I, Blue Augment Slot, Green Augment Slot
Ultimatum
---
+12, Insightful Sheltering +5, Petrification Immunity, Improved Bashing X, Holy VII, 
Metalline, 
Purple Augment Slot, Blue Augment Slot
Visions of Precision
---
Wisdom +12, Enhanced Ki +3, Dazing X, Insightful Wisdom +4, Blue Augment Slot, Green Augment Slot